Sign up for my CMA newsletter!
In this newsletter, you'll get the latest exam info, tips for passing the exam, and exclusive discounts on CMA exam prep!
Which CMA Review Course Is Right for You?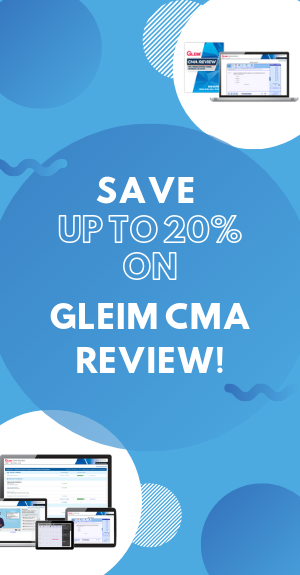 Discover More Accounting Certifications!
CMA Exam Part 1: Certified Management Accountant Exam Part
The Certified Management Accountant (CMA) exam has 2 parts, each focusing on a different set of topics. Together, Part 1 and Part 2 serve as an objective measure of your knowledge and competence in the field of management accounting. You must dedicate your studies to getting very familiar with each part, so let's start by introducing you to CMA exam Part 1.
CMA Part 1 Syllabus
CMA Part 1: Financial Reporting, Planning, Performance and Control
| | | |
| --- | --- | --- |
| Content Area | Coverage Percentage | Coverage Level |
| A. External Financial Reporting and Decisions | 15% | Level C |
| B. Planning, Budgeting, and Forecasting | 30% | Level C |
| C. Performance Management | 20% | Level C |
| D. Cost Management | 20% | Level C |
| E. Internal Controls | 15% | Level C |
As you can see in this table, Part 1 of the CMA exam is called Financial Reporting, Planning, Performance, and Control, and it addresses five content areas.
The Institute of Certified Management Accountants (ICMA) creates the CMA exam and shares the body of knowledge each exam part will cover in the content specification outlines (CSOs). The ICMA uses the CSOs to
Lay the foundation for the development of each exam part,
Ensure each part has consistent coverage,
Communicate the details of the exam content to interested parties,
Help candidates prepare for the exam, and
Equip review providers with information for their courses.
The CSOs put a coverage percentage next to each exam part topic in order to represent its relative weight. Additionally, the CSOs assign a coverage level to each exam topic. The coverage levels range from an introductory knowledge of the subject matter to a thorough understanding. The ICMA defines the three levels of coverage as:
A: Requiring the skill levels of knowledge and comprehension.
B: Requiring the skill levels of knowledge, comprehension, application, and analysis.
C: Requiring the skill levels of knowledge, comprehension, application, analysis, synthesis, and evaluation.
The coverage levels build on each other, so Level C may contain the requirements of Level A and Level B.
The CSOs don't tell you the order or the frequency of the topics on the exam.
Part 1 is all about financial reporting, planning, performance, and internal control. If you took the CPA Exam, then Part 1 will feel like an intro to FAR, a bit of AUD in terms of internal control, and a big, more in-depth version of BEC.
In the CMA Handbook, the Institute of Management Accountants (IMA), the worldwide association of accountants and financial professionals in business that offers the CMA certification, summarizes the topics of each CMA Part 1 content area.
A. External Financial Reporting Decisions
Preparation of financial statements:

balance sheet
income statement
statement of changes in equity

statement of cash flows
Valuation of assets and liabilities
Operating and capital leases
Impact of equity transactions
Revenue recognition
Income measurement
Major differences between U.S. GAAP and IFRS
In this section, you'll be required to know the items in these documents and how they relate to each other:
A balance sheet
An income statement
A statement of changes in equity
A statement of cash flows
If you have studied any accounting before, this should be a relatively straightforward section, and most of these questions should be computational.
B. Planning, Budgeting, and Forecasting
Strategic planning process
Budgeting concepts
Annual profit plans and supporting schedules
Types of budgets, including:

Activity-based budgeting
Project budgeting
Flexible budgeting

Top-level planning and analysis
Forecasting, including quantitative methods such as

Regression
Learning curve analysis
Budgeting is the biggest section of Part 1. You'll be expected to calculate various items such as the cost of goods sold, cost of goods manufactured, and other items in the budget. You'll also see some conceptual questions such as the definition of budgeting. The coverage of section B is more in-depth than that of section A. The concepts are not difficult, but questions can get lengthy and complex in some budgeting scenarios.
C. Performance Management
Factors to be analyzed for control and performance evaluation including:

Revenue
Costs
Profits
Investment in assets

Variance analysis based on flexible budgets and standard costs
Responsibility accounting for:

Revenue
Cost
Contribution
Profit centers

Key performance indicators
Balanced scorecard
In this section, candidates are tested on the ways performance is evaluated in a corporation. Most of the evaluation tools should be familiar to those who work in the accounting department of a corporation. There are certain elements, such as standard costs, that are used mostly in manufacturing companies as opposed to service-oriented companies. If you are working in a financial institution or other service companies, you may want to spend more time understanding the standard cost concept.
D. Cost Management
Cost concepts, flows, and terminology
Alternative cost objectives
Cost measurement concepts
Cost accumulation systems including:

Job order costing
Process costing
Activity-based costing

Overhead cost allocation
Supply chain management and business process performance topics such as

Lean manufacturing
ERP
Theory of constraints
Value chain analysis
ABM
Continuous improvement and efficient accounting processes
The focus of this section includes the various costing methodologies, and you are expected to be able to complete a full set of calculations.
E. Internal Controls
Corporate governance
Internal control risk
Internal control environment, procedures, and standards
Responsibility and authority for internal auditing
Types of audits
Assessing the adequacy of accounting information system controls
Business continuity planning
The internal control questions in this section are almost all conceptual. They are not difficult to understand, but they can be ambiguous. Picking the best answer can be pretty hard when a few of the answers seem to be somewhat correct. Don't' get frustrated if you breeze through this section but discover that you do poorly on the practice questions. It happened to me back then, but things started to click after I stayed focused and reworked the tough questions that I got wrong.
CMA Exam Part 1 Format
Each part of the CMA exam features 2 types of questions and a specific number of each:
100 Multiple-choice questions (MCQs)
2 Essay questions
You'll have 4 hours of total testing time for each exam part, divided like this:
3 hours for the MCQs
1 hour for the essays
You must answer at least 50% of the MCQs correctly to be eligible to move on to the essay section. If you are eligible, the exam will present the essays to you after you've answered all of the MCQs or after 3 hours have passed, whichever comes first. Once you leave the MCQ section of the exam, you can't go back: you must remain in the essay section.
In the essay section, you must complete 8-10 written response or calculation questions based on 2 scenarios describing a typical business situation.
CMA Part 1 Questions
On the CMA exam, the MCQs have 3 parts:
The question stem: includes the question, necessary details for answering the question, and sometimes, irrelevant information as well.
The correct answer choice: responds to the question stem better than any of the other answer options.
The 3 distractors: appear to be correct at first glance but are actually incorrect.
Aside from the typical, straightforward MCQ question, there are a few other types of MCQs that you'll see on each exam part.
Negative question stem: includes words like "except," "not," "false," and "least" to demonstrate that the correct answer choice is an exception.
Combination of correct answers: asks which of three to four numbered statements are correct by providing answer choices with different combinations of the statement numbers.
Multiple variables: presents multiple columns of variables and asks candidates to select the answer choice comprising all the correct variables.
Essay Questions on CMA Part 1
Part 1 of the CMA exam contains 2 essay scenarios to which you must respond by answering about 3-5 questions. The essays may ask you to write a few paragraphs or perform a calculation.
Subject matter experts grade the essays, and they will award partial credit. So, when answering a conceptual essay question, you should write as much as you can about the topic so you can maximize your points. Do the same for computational questions by showing your work, as you can receive points for using the correct formula even if you made a mathematical error, for example.
If you must make a chart or table, keep the formatting simple and focus on organizing the information clearly.