CPA Exam Written Communications, commonly known as the essays, is one part of the exam that worries people. The grading is not as black-and-white as the multiple choice questions.
Did you know whether the CPA exam essay grading is based on:
How long we manage to write?
How flowery the language we are going to use?
Or even, whether it helps to add charts and graphs?
Surprisingly, the answer is no for all three.
An Overview
Written Communications are only required in the BEC part of the exam. If you are done with BEC, you may stop reading this page.
For BEC takers, this section represents 15% of your grading. It is important to know how Written Communication is graded.
What are the Graders Looking For?
The graders want to test the candidates' ability to construct professional, business documents.
To earn points for this section, candidates must read a description of a situation or scenario, and write a document that relate or responds to that scenario.
The document type is specified in the question which may include a memo or letter to a hypothetical client.
How Can I Produce a Good Piece of Writing in the Eyes of Graders?
Graders look for:
Complete sentences
Use of Standard English
Relevance
Clarity
Be Concise
Good Organization
Properly formatted with introduction and conclusion
My CPA Exam Written Communication Tips
1. Complete Sentences: Avoid Bullet Points and Charts
Avoid using bullets point, abbreviation, diagrams, charts, number list and graph — these are a big negatives for essays for CPA exam purposes.
The reason is actually more technical than anything else – your answers will likely be graded by machines (yes!) and machines are programmed to check the grammar and sentence structures.
Bullet points are typically not complete sentences. You will lose point because of that.
2. Use of Standard English: Stick to Standard Business Writing Format
Even if you haven't taken a creative writing class (not necessary), drafting a standard business letter should be fairly easy for you, if you've ever answered an e-mail in a professional setting.
When it comes to business writing, don't be fancy. Keep it short, simple and straight to-the-point. We have some tips on writing good CMA exam essays that could be helpful in this exam.
3. Relevance: Aim to Stay "On Topic" vs be "Correct"
Although some papers are randomly pulled and reviewed by human graders, most Written Communications questions are graded by machines. It doesn't even matter much if you are correct in the concepts.
You just have to stay on topic. Use topic keywords in your essay and be careful not to copy the text of the question word-for-word or you may lose points.
As long as you demonstrate knowledge in the subject by providing details, examples and definitions, we will do a good enough job to pass this part of the exam.
4. Clarity: Include Elaboration and Summary
Make sure each paragraph in your response must establish support or summarizes the answer to the question at hand.
5. Be Concise: Less is More
Avoid writing more than what is needed.
6. Good Organization: Structure Your Answer Before Writing
Write down your basic ideas on the note pad given at the testing center.
Make sure your document has a clear beginning, middle, body and finally conclusion.
Start with an overview where you describe the purpose or intent. Then, rewrite the question so the beginning sentence of introductory paragraph closely matches with the topic. You can get tips on how exactly this can be done in my book (see below).
Then, ensure that your following paragraphs support this overview, and lead into each other well. Summarize the key points of the document on the final paragraph.
7. Manage Your Time
Be conscious of your time limit. It is important that your piece of writing will have a complete introduction, the middle paragraphs and a conclusion. Allocate sufficient time to complete each section of the writing.
How Well Did Others Do in Written Communications
The following chart shows the percentage of "comparable" or "stronger" in score reports, by country. You can see this as something similar to the pass rate.
Obviously, your performance may not be the same as your peers, but this is one data point you can refer to.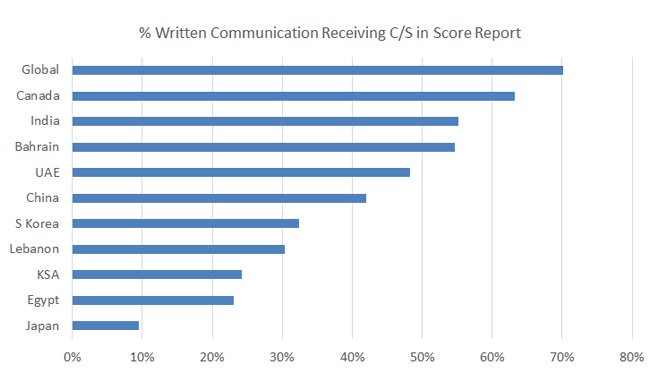 Source: NASBA report
If you are from a country with a relatively low percentage, you should get better prepared.
You Can Do This — and Even Better With My "Formula"
I hope these CPA exam written communication tips can ease your concern on this part of the exam.
If you want extra tips to ace in this section, I have a "formula" in Chapter 10 of my book that you can implement when working on any written communication tasks. To give you a glimpse of what it is, here are the steps you can follow:
Step 1. Identify the format, objective, your role, and your audience
Step 2. Identify keywords related to the objective
Step 3. Write down the first sentence of each paragraph
Step 4. Begin the first sentence by rewriting the question
Step 5. State the core concept / position and develop ideas in separate paragraphs
Step 6. Keep the conclusion simple and professional
Step 7. Proofread from beginning to end
In terms of how you can actually follow these steps, you'll need to get my book to find out!